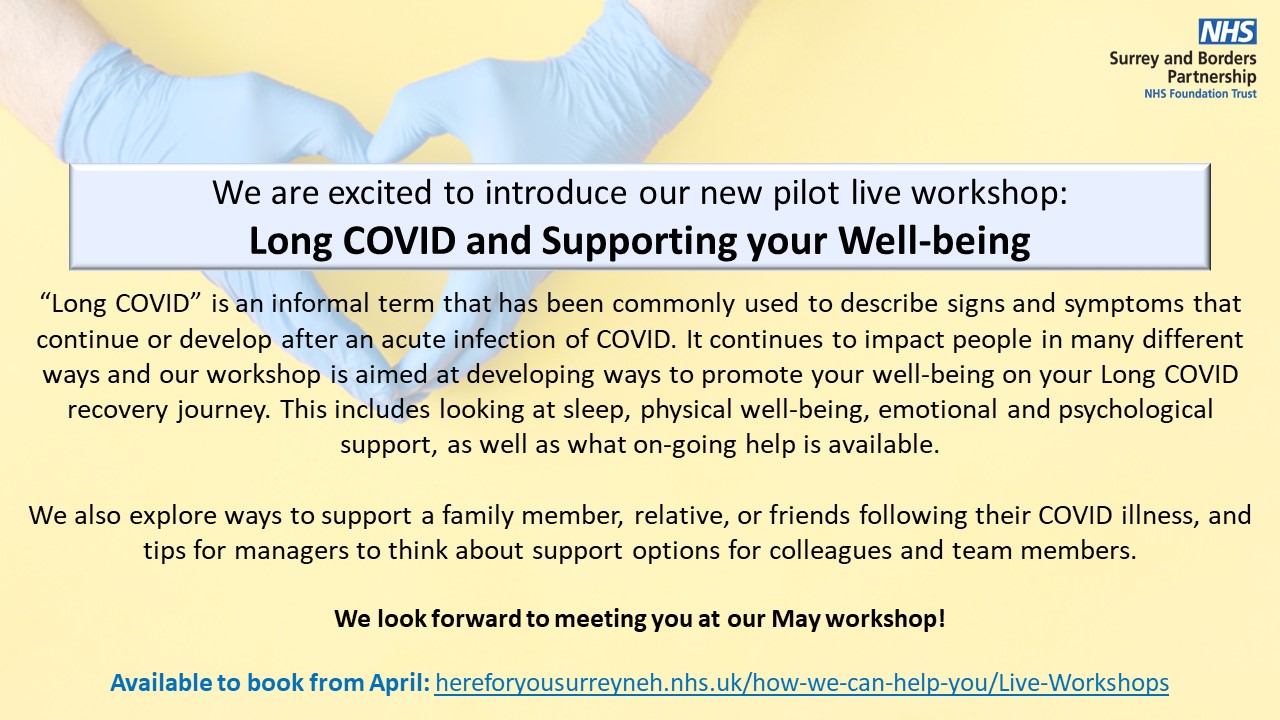 We know that continuing to provide services and care for people during the pandemic has been hard on staff, and for many has been too much to cope with.
Learning about how we use our emotions and experiences to cope in stressful situations can help to build mental health resilience, through a greater awareness and understanding of how you can proactively help yourself and support the people around you. How to cope with challenges at work or outside of work, particularly when facing unfamiliar or highly challenging situations is not easy; our live workshops offer a way to reflect, learn or share experiences in a safe environment with experienced facilitators.
We offer regular live workshops that cover a range of specific topics that may be affecting people who have been working in heath and care services throughout the pandemic. These may be staff working directly with patients or people affected by COVID or may be those working in office-based roles or support functions.
Our team includes NHS mental health professionals who have developed these workshops to help you understand why you are experiencing certain symptoms, how to identify what causes these feelings and how you can effectively manage them.
Many people find our live workshops helpful because they can ask questions of the presenters and explore the topics in more detail. No matter how you access support, the service is open to anyone working in health and social care services in Surrey and North East Hampshire.
Our live workshops are offered on a rolling programme; most workshops are offered each month but for some workshops it might be every other month. Our workshops timetable is displayed on our homepage and on our twitter account.
If you would like to book a live workshop, please complete this form.
Stress and coping: understand what stress is, how is affects us and how to improve your resilience by reducing your stress response and using self-care skills
Developing resilience through self-compassion: compassionate thinking can foster resilience and understanding in us and our teams
Remote working: adjusting to new ways of working can be difficult, so we can help you to form healthy behaviours and maintain connections with your teams and colleagues
Loneliness and disconnection: explore why we experience feelings of loneliness and how we can still create connections with others even when you cannot see them face to face
Moral distress: we will cover what moral distress is, the potential causes and manifestations and how you can cope with it
Loss, grief, and bereavement: we will discuss the difficulties faced when dealing with bereavement both at home and at work, and how we can cope with these feelings
Vicarious Trauma: we explore what is vicarious trauma and the impact on well-being, as well as providing strategies and resources for support
Sleeping Well: this workshop covers sleep, how to develop healthy habits and make positive changes to improve your quality of sleep and well-being.
Workshop for Leaders Part 1: Self-care for Leaders: dealing with stress and introducing self-care techniques for those in leadership roles
Workshop for Leaders Part 2: Leading with Compassion: how to lead in a compassionate, collaborative, and inclusive way.